Automatically send a welcome message on LinkedIn
Reading time/Temps de lecture :
3
minutes
In this article, we will see very how to use ProspectIn to automatically send a welcome message on LinkedIn to people who send you a connection request. ✋🏻
ProspectIn, what does it do?
ProspectIn allows you to automate the sending of connection requests and messages on LinkedIn, but also allows you to visit and follow profiles automatically.
The strength of ProspectIn is its scenario functionality, which allows you to automate action sequences (visit/follow/connection request/message) between them.
This allows you to create true follow-up sequences like you could by email, but using LinkedIn profiles instead of email addresses, with a much higher open and response rate (approximately 10x).
ProspectIn takes the form of a mini CRM from which you can perform all your actions. You organize your prospects into campaigns, and you can use a large number of filters as well as a tag system to better organize your prospecting.
Sending welcome message automatically on LinkedIn
ProspectIn offers an advanced prospecting feature: triggers. Triggers allow you to perform an action based on an event and certain conditions, all in a fully automated fashion.
It is therefore via this feature that you will be able to automatically accept the connection requests received while sending a welcome message on LinkedIn.
1st step
The first step is to create a campaign that you will call "Triggers Campaign" (for example).
Once the campaign is created, you go to the message tab and write the message you want to send to the people who send you a connection request on LinkedIn. You can name your message "welcome message" (this title will only be visible to you).
2nd step
Go to the "Triggers" page then create your trigger! 😁
Choose your trigger input, that is, the action that will trigger the trigger. Here, "Invitation received (auto-accept), then choose the condition "without note" if you only want to accept connection requests and send a message to people who add you to their network without attaching a note. Finally, choose the frequency of the trigger execution.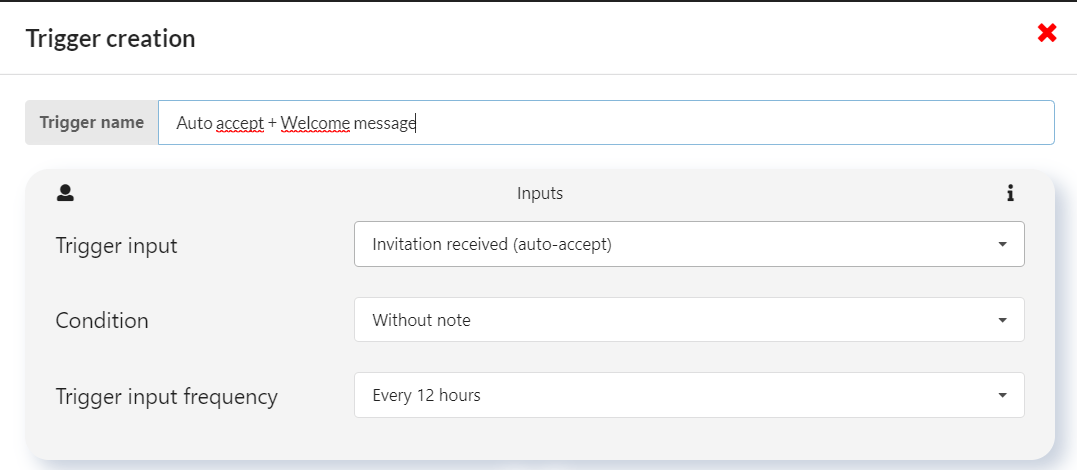 3rd step
Choose the trigger output, ie the action that will be performed when the trigger is triggered. Here, "Sending a message", choose the "Triggers campaign" campaign and then the welcome message.

4th step
You just have to choose the conditions, "Prospect status": "connected" and "Already present in the CRM ProspectIn:" None".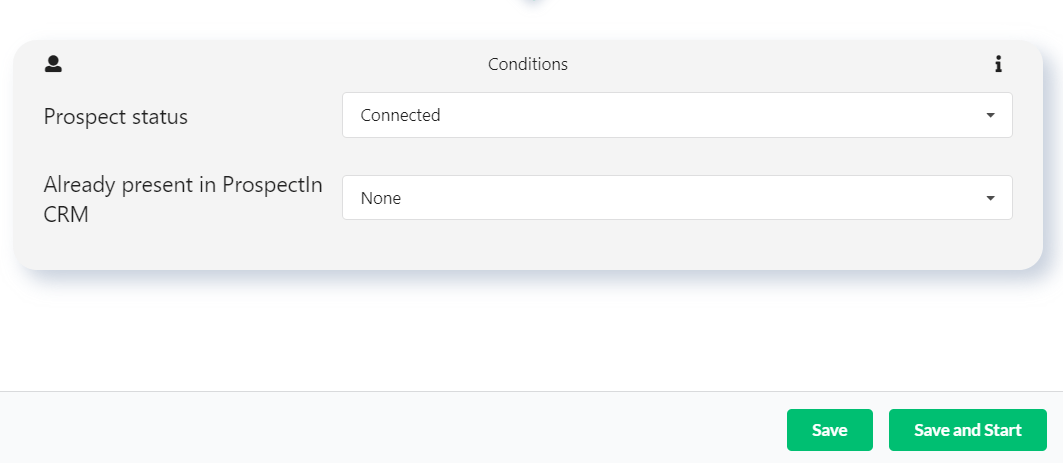 Click on "Save and start". There you go, your trigger is set up. From now on, all connection requests received without a note on LinkedIn will be automatically accepted and the person will receive a welcome message automatically.
This is just one of the many automations you can set up with ProspectIn. Do not hesitate to check our article "10 triggers example with ProspectIn" to discover other possibilities 😉