How to use the CRM synchronization feature with ProspectIn and Zapier?
Reading time/Temps de lecture :
4
minutes
Thanks to the "triggers" update (see article), it is now possible to automatically export prospects from ProspectIn to most CRMs, via Zapier synchronization. This synchronization can be a little tricky. We'll explain everything here! 😁
What is Zapier and Triggers?
Zapier is a tool allowing you to synchronize more than 2,000 applications and software between them, with a very simple interface. Discover Zapier.
Triggers allow you to automate actions on incoming events (invitation request, new message sent…) and create outgoing events (sending to Zapier, sending a message, etc …).
Set up ProspectIn – Zapier
0. Prerequisite
Zapier's pricing works on a number of actions performed. In order to reduce costs, we have implemented a group sending system, updating prospects 10 by 10 in your CRM. To use ProspectIn and Zapier synchronization requires a 3-step "Zap", available only with a premium Zapier account (see Zapier prices)
ProspectIn triggers are only available on the Advanced (and Enterprise) plan.
1. Create the Zap
Click on "Make a Zap!" then search for "Webhook By Zapier" => "Catch Hook" and click on "Continue". You get a URL to copy.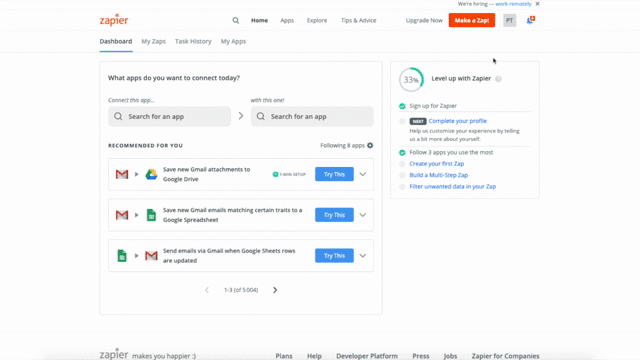 2. Create the Trigger on ProspectIn
Go to the "Triggers" tab in the back office of ProspectIn. Choose "Create" and then define the input event you want. For example, if you want to automatically synchronize the prospects who have responded in your CRM, choose "Has replied".
For your output event, choose "Export to my own CRM". Copy the Zap URL previously obtained and click on "Save and start".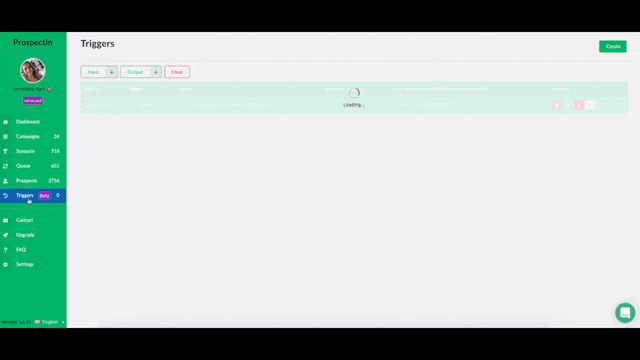 The validation sends a request to Zapier to start synchronization.
3. Synchronize and test
Click on "Continue" and "Test & Review". You must have "Hook A": these are the test data sent to the creation to provide Zapier with the format of the data to be processed.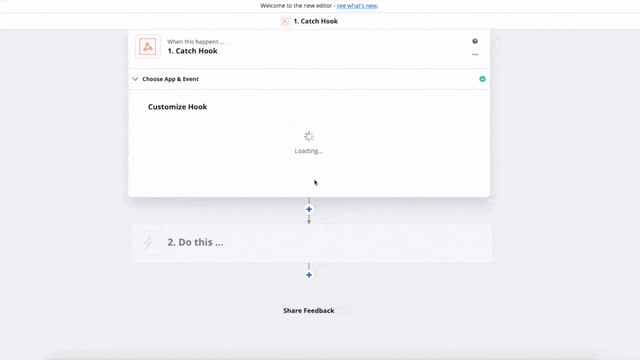 Click on "Done editing"
4. Format your data
This step allows you to define the keys and the associated data that you will export to your CRM. For example, if the field in your CRM is "Email", you will create an "Email" key associated with the "Email" data received in the Zapier Webhook.
Click on "Do this". Look for "Formatter" and select "'Formatter By Zapier" then "Text". Go to the next step. Choose "Split Text".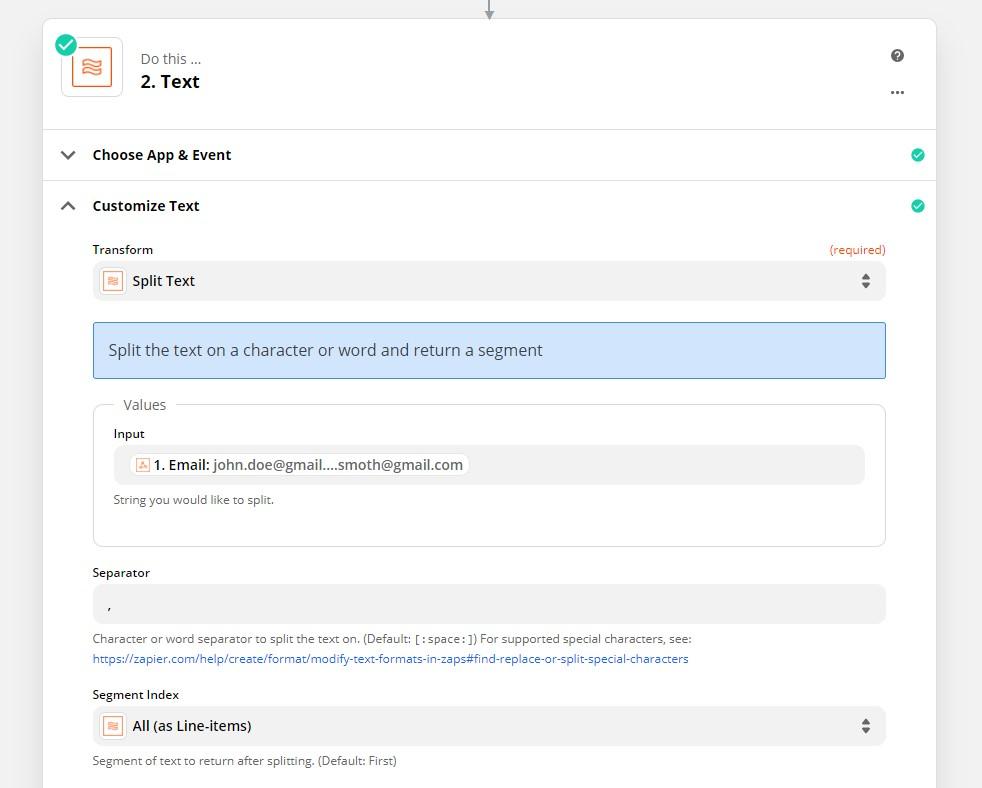 You need to create one step per data requested. Here, for instance, we retrieve emails. Choose the Email input and the "," separator and ask to segment "All (as Line-items)".
NB: We send bulk data, that's why some information may be regrouped in the same row sometimes on Google sheet. Following these steps will avoid this.
Do the same for every variable you want: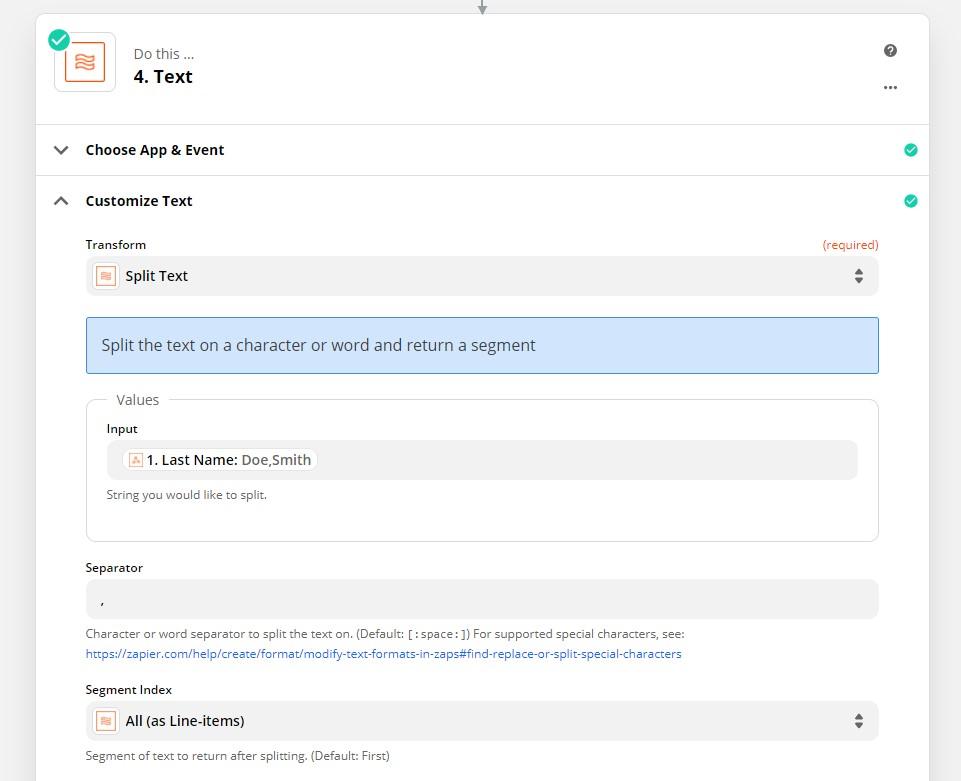 5. Define your output action
If you want to export in another CRM, you'll need to create a second zap after this one. You need to use a Google sheet to separate bulk data.
Click on  "+".
Find your app. Here "Google Sheet". In the "Choose action event" box, choose "Create Spreadsheet Row(s) in Google Sheets". (The plural (s) is important)
Click on "Continue" to synchronize with Google Sheet and retrieve the correct URL.
Choose the Excel sheet to export your data to and enter the data
Click on "Continue" then "Test & Continue" then on "Done editing"

NB: The article was updated, but there's still written 'Update Spreadsheet Row", you need to select "Create Spreadsheet Row(s)" for sure.
Well done! Your data will now be automatically synchronized!
6. Export in another CRM than Google sheet
We stop there for the tutorial, but you can still export in another CRM. Here's the second zap you need to create:
Votre zap sera en deux étapes :
Step 1: Trigger – Google Sheets : New spreasheet Row
Step 2: Action – CRM : Create/Update Contact
Good to know for the ProspectIn Zapier Synchro
You can create as many triggers as you want to send to the same Zap. Please note that if the prospect's email is not retrieved, your Trigger may fail.
Do not hesitate to contact us on support if you have any questions! 😘

Toinon
Chief (Positive) Energy Officer @ ProspectIn 😎