You've reached the LinkedIn weekly invitation limit
4
minutes
While trying to send an invitation on LinkedIn, you receive this error message. You have reached your weekly LinkedIn invitation limit. 😅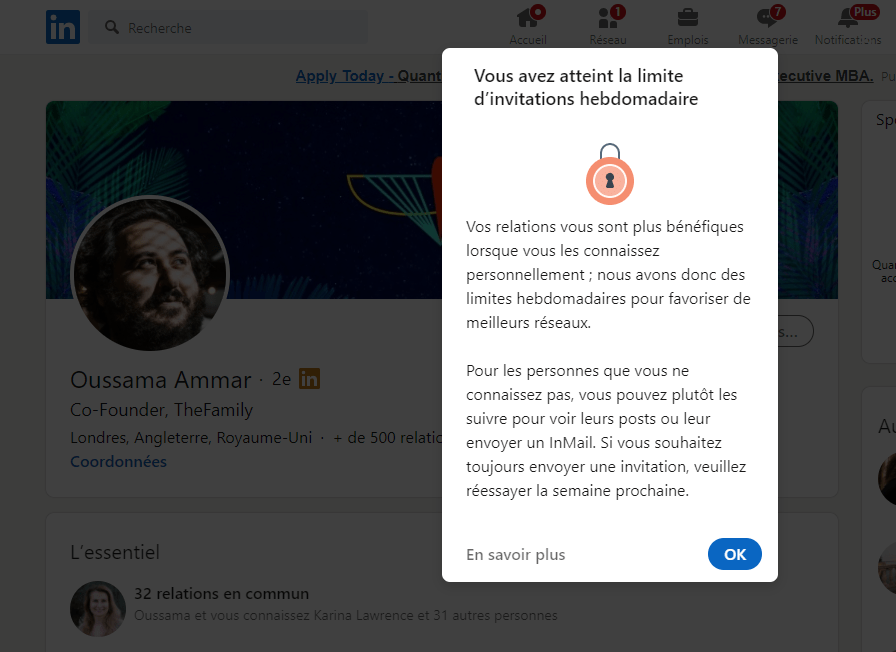 Premièrement : Pas de panique ! Ce n'est pas grave et votre compte ne risque rien. C'est une suspension n'est que temporaire. 😜
Why have I reached the weekly invitation limit on LinkedIn?
LinkedIn wants to improve the quality of relationships built on the social network. That's why they recently made an update to limit weekly invitation sends.
But this restriction does not apply equally to everyone. There is no universal quota for sending hedbomadary invitations.
There is an algorithm behind it that calculates a limit for your account based on various criteria.
We now know that the following criteria are taken into account
the number of invitations sent,
the number of pending invitations (i.e. sent but not yet accepted or refused),
your acceptance rate (if no one seems to want to connect with you, LinkedIn will set a low limit)
the number of people who report that they don't know you
Of course, LinkedIn doesn't disclose exactly what the criteria is andhow the algorithm works. At ProspectIn, we try to understand how these restrictions work, so that we can help our users take full advantage of the network, while remaining compliant with LinkedIn's rules of use.
We now know that not all users are affected by this restriction. Less than 1% of our customers have experienced this issue to date.
It remains to be seen whether this is an update that is being rolled out across the network, an A/B test by LinkedIn, or a restriction lifted only on specific profiles, perhaps for those considered spam.
How to lift the weekly invitation limit?
Once you get this message, unfortunately there is nothing you can do immediately. You have to wait until the following week to send new invitations.
If you're using an automation tool like Dux-Soup, Linked Helper or another tool on the market, you'll need to pause your campaigns while this restriction is lifted. 👌🏻
Once this one is lifted here are some tips:
Work on your approaches by focusing on open-ended questions to increase your acceptance rates and avoid being flagged as undesirable,
Segment your lists to send invitation requests that make sense and to a certain number of profiles
,
Reduce the number of invitations you send out to ten or so per day and increase them gradually,
Delete your pending invitations and stay under 500. You can do this automatically on ProspectIn by following this little GIF
How does ProspectIn handle when you've reached your weekly invite limit?
ProspectIn is currently the only tool on the market that has adapted to this restriction by adding a security. When we detect that you've reached the weekly invite limit, we make your account safe by stopping invitation sends.
Every 6 hours, ProspectIn will retry to send an invitation to check if the limit is still in effect. As soon as we detect that the limit is lifted, your invitations will resume as normal.
However, if you have been restricted, we recommend that you reduce the maximum daily send quota to 30 and then increase by 10 each week to avoid a new restriction.
You can do this from the "Settings" page of ProspectIn.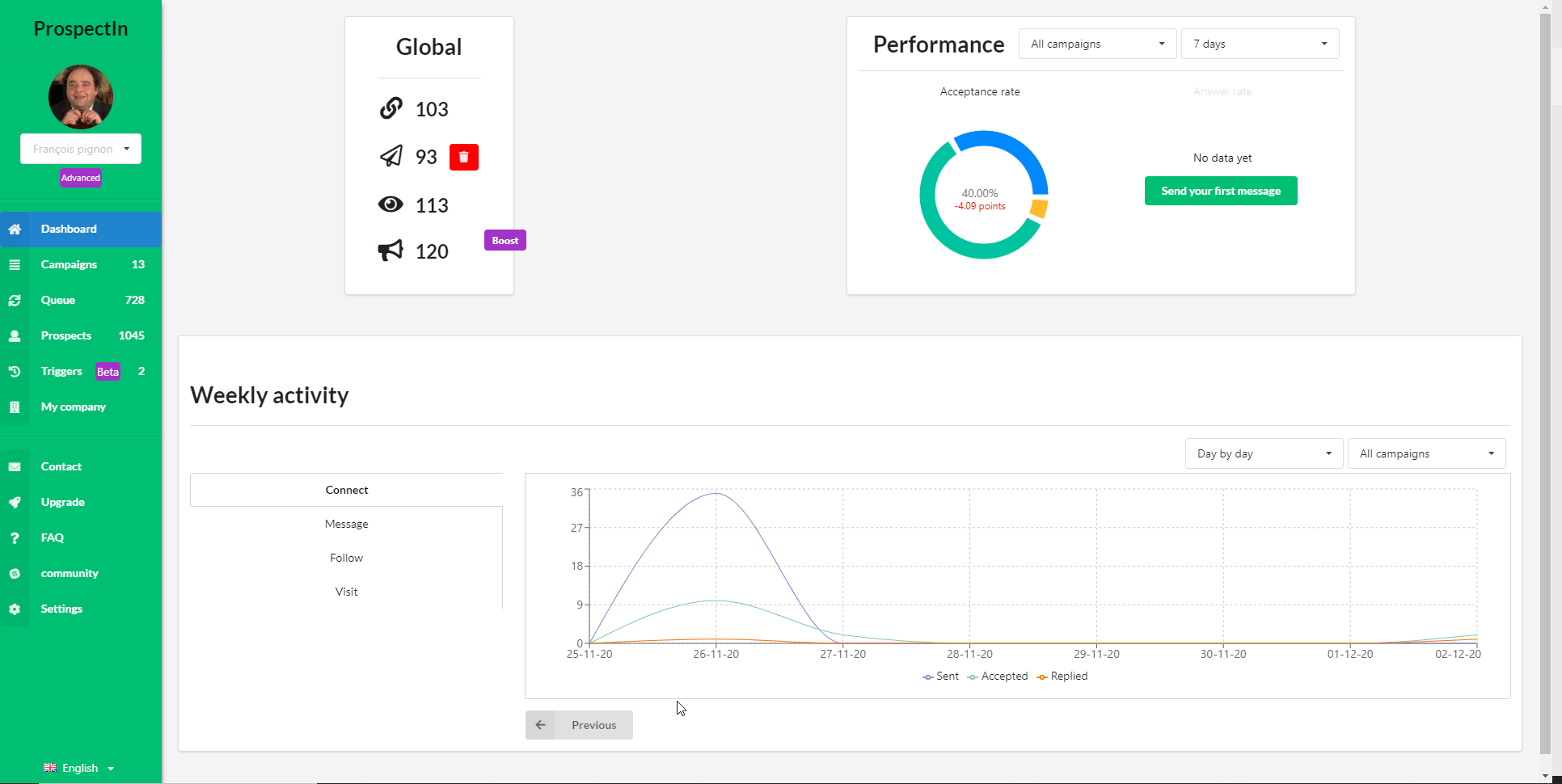 The maximum quotas will be updated the next day.
Towards the end of automated LinkedIn prospecting?
Following the appearance of this restriction, many people have panicked, crying the end of prospecting on LinkedIn. On our side, we don't think so at all.
First of all, this restriction only applies to a very small part of users so far. It seems that certain patterns are returning among these users:
Lots of invitations waiting to be accepted,
Massive mailings for several months,
People have reported them as "I don't know this person".
Also, one of the main sources of revenue for LinkedIn comes from the Sales Navigator (see how to use it for free), LinkedIn's advanced search tool.
Indeed, this tool is clearly intended to use LinkedIn as a source of leads, which you can then contact directly. But this tool is expensive (about $75/month) and is of little interest when it is not coupled with an automation tool like ProspectIn.
Conclusion
LinkedIn is indeed testing new things. Nothing to panic about according to us, it is mostly a matter of getting as close as possible to the best practices of the network to avoid reaching this weekly limitation.
Prospecting on LinkedIn has not said its last word, but more than ever, the quality of approaches and good segmentation of prospects is essential!
FAQ of the article
Does restricting invitations on LinkedIn mean I'm banned?
If you got the alert message, don't panic, you are not banned. The LinkedIn algorithm decided that your account was sending too much and probably unsolicited volume and placed a weekly limit on you.
How do I lift the weekly invitation limit on LinkedIn?
Unfortunately you have to wait until the following week or use ProspectIn to see your prospecting automatically resume.
Then, you have to decrease the volume of mailings, rethink your approaches and improve your segmentation, for a better quality prospecting.
Will the restriction harm your image on LinkedIn?
No. Don't worry, other users are not notified that your account has been restricted.
Will LinkedIn notify me when the restriction ends?
No, there is no need to monitor your email. The best way to know if it is lifted is to test!