When to publish on LinkedIn?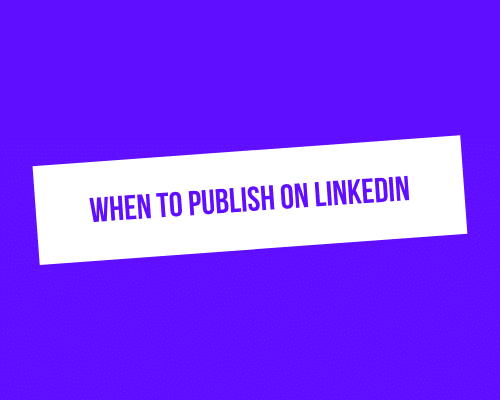 2
minutes
This is a question that anyone producing content on LinkedIn asks: when to publish on LinkedIn? What time will give me the best engagement rate? The best outreach?
When you know how the LinkedIn algorithm works, you know you have to get engagement early in the life of the post to get reach.
When to publish on LinkedIn according to "experts"?
Alas, there is no perfect answer. If we wander a little on the different sites that offer an answer to this question, we get some differences and many similarities. But most of them get the info from each other and nobody seems to have done any tests
According to Julien Bréal, you should publish:
7:30 a.m. – 8:30 a.m. / 12:00 / 5:00 p.m. – 6:00 p.m. Tuesday-Wednesday-Thursday and 10 a.m. to 11 a.m. on Tuesday.
We find similar data on web-marketing-conseil.fr
1ère.position.fr rather tells us:
Tuesday and Thursday
Between 7 a.m. and 8 a.m.
Between 10 a.m. and 11 a.m.
Between 5 p.m. and 6 p.m.
Which is about the same.
Finally, agence90.fr significantly confirms the other data:
Most clicks and shares: Tuesday from 11 a.m. to midnight.
The worst time to post on LinkedIn: sleeping hours (10 p.m. to 6 a.m.) just before Monday and after Friday evening.
The best hours to post: between 7 a.m. and 8 a.m. and between 5 p.m. and 6 p.m.
Peak usage period during an average day: 12 p.m. (noon) and between 5 p.m. and 6 p.m.
Everyone obviously points out that it depends on your targeted audience, which probably has different practices depending on its typology.
So, what's the truth?
Podawaa is not yet launched. There is therefore very little real data on the subject, other than personal experiences, intuition, and data on hours of connection.
But we intend to change that! Thanks to the statistical data on the publications of our future users, we will be able to give you precise information on the best publication times on LinkedIn. Sign up for the beta!